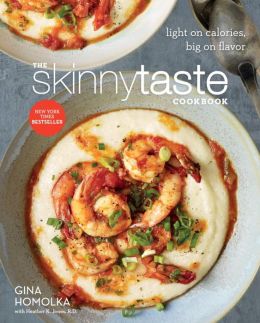 This is a great cookbook for those who want to both eat great tasting food and have it be healthier too! I was not familiar with the author Gina Homolka's blog
Skinny Taste
so this book was an introduction to her philosophy of food, cooking and healthy eating. She had tried diets and like most people was not that successful with them. She also wanted healthy "non-diet" foods to feed herself and her family. She started her blog for fun and to share her recipes with others like her that was looking for healthy low calorie recipes.
The section The Skinny Basics is an important part of the book to read. I read it over twice to make sure I got it all. It goes into great detail about Planning Ahead and Eating Healthy All Week, Taking Charge of Your Kitchen, Dump the Junk, Fall in Love with Real Food, Keep it Simple, Forget the Fads and Serve Up Perfect Portions. The Kitchen Makeover is another good part of the book. It goes into detail as to what type of things you should stock your pantry with and what things you should get rid of. It also has great freezer and pantry tips that we can all use.
I would compare this book to similar books like those in the Cooking Light series. The book uses pretty easy to find ingredients that are in most peoples pantries already and easy to follow recipes. Most of the recipes can be make in less than an hour and there is a lot of recipes that can be made even faster. There are lots of great pictures too.
A few of the recipes that I have made so far, thoroughly enjoyed eating and will definitely make again are: Slow Cooker White Bean Chili Verde, Chicken Pot Pie Soup, Mongolian Beef and the Asian Peanut Noodles with Chicken. I plan on making the Cheesy Baked Penne with Eggplant and the Baked Bananas Foster a la Mode this weekend. I would definitely like to try a few more of her dessert recipes as I am all about the dessert!