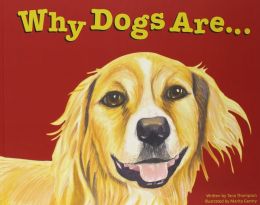 This is a beautiful children's fiction book with beautiful illustrations. It is a story about a dog that helps a boy who can't see or hear. God sends him to Earth to teach the boy, Brian, that he loves him. I agree that God loves us all. I enjoyed the part of the story that tells you that dogs are wonderful, lovable and helpful companions. I totally agree that dogs are great! I have always had a dog in my family and consider my dogs part of my family.
"Go to Brian and just love him. Stay by his side. Let him lean on you. Help him walk with confidence. Let him hug your neck". Then it goes on to say "From now on I will call you DOG - that's God spelled backwards".
I really did not agree with the way the author wrote the story that Brian needed a helper so God sent him to Earth to help the little boy out. The story then goes on to state that because the dog did a good job God decided to send other dogs to Earth. I really didn't care that the book took something about God and Heaven and made it appear as a fact when in fact it has no biblical basis. I was really bothered with that part of the book.
I read the book to my six year old grandson Connor. I believe that Connor enjoyed the pictures and hearing about how much this dog loved the little boy Brian but he was confused by the fact that the book says "God then shouted after him, If you do a good job, I will send more dogs to Earth". He was totally confused by that and I had to explain to him that it was just a story and not actually a fact.
I thought the illustrations were very nicely done and any child who likes dogs will enjoy looking at this book but I really wouldn't recommend it to others. You can find out more about the book at
Barnes and Noble
or
Amazon
.
Thank you to BookCrash for providing this book to me for free for my honest review.